My child has been diagnosed with Fragile X Syndrome…now what?
First of all, know that you are not alone! There is an array of supports ready to assist you on this journey with your child and family. Please keep reading for guidance on the days ahead.
Blog outline:
What is Fragile X Syndrome?
Therapy guide
Home supports
Sibling considerations
Conversations with family, friends, caregivers, and community
Support for caregiver
What is Fragile X Syndrome?
Fragile X syndrome is characterized by the Center for Disease For Disease Control and Prevention as a genetic disorder caused by changes in a gene called Fragile X Messenger Ribonucleoprotein 1 (FMR1).  FMR1 usually makes a protein called FMRP that is needed for brain development. People who have FXS do not make this protein. Those with fragile X-associated disorders have changes in the FMR1 gene, but usually still make some of the protein. What this can look like:
Hyperactivity, autism-like behaviors, learning delays, developmental delays, trouble understanding nonverbal communication, difficulty making and keeping friends, gastrointestinal issues,
Therapy Guide
There is no cure for Fragile X Syndrome, however, there are an array of treatment options that include:
Since I am not a doctor, I will not be discussing any medication options, but know that you can always consult medical professionals if this is something you would like to explore.
Regarding therapy, you have an array of options.
Common therapies:
Behavior
Speech
Occupational
Physical
Other therapies:
Music therapy
Neurofeedback
Family therapy
Massage therapy
Hippotherapy
Within the therapy process, we look at various domains within the human brain and body:
Motor
Cognitive
Speech/Communication
Social
Emotional
Academic
Behavior
Understanding the organization of these domains will be important in understanding each therapy's area of focus. Keep these domains in mind as we explore in more depth the common therapy practices.
Behavior therapy: Several of the clients that I work with are also in behavior therapy, specifically ABA Therapy. When a family can find the right behavior therapist to join their team, this can be an invaluable therapy option. If your child needs attention within the behavior domain, please visit this website for more information on options within behavior therapy.
Speech therapy: Most kiddos I work with are also in speech therapy, which will focus on all skills related to speech, language, and communication. Domains: Cognitive, Speech/Communication, Social.
Occupational therapy: One of my favorites! OT is focused on all things functional and necessary to increase ability to perform activities of daily life (self-care, appropriate play and interactions, etc). Domains: All of them!
Physical therapy: If you child has physical concerns, a physical therapist will be able to assess and implement appropriate treatments improve motor skills. Domains: Motor.
Now, onto my plug about MUSIC THERAPY!!! Yep, music therapy is an absolutely amazing way to address therapeutic goals for children with autism.
Music Therapy
The process of using music to address non-musical goals. Domains: All of them!
Home Supports
Structure and routine:
Typically, children with Fragile X Syndrome do well with structure and routine. If you are not already in a daily routine, it is time to start working toward that. I recommend starting with one step in that direction. For example, eat dinner at the same time every night, sitting down for a quiet moment together every morning, or anything that is feasible and easy to quickly implement. This will give your child a predictable point in the day to come to expect. As you adjust and gain more therapeutic supports, you can implement these routines and structures more and more. But start today. Nothing overwhelming. Just find one structure point that you can establish for your child.
Visuals:
Kiddos with Fragile X Syndrome typically find visual schedules and reminders helpful. Consider getting visual aids for your child at home. For instance, if they are getting frustrated with communication, print some pictures of common items they may ask for (chips, water, new clothes, blanket, toy, etc.) and direct them to the visuals when needed. (Note: this is an example and might be advanced and need therapeutic guidance before implementing at home).
Role playing:
Although all children need repetition and practice, kiddos with Fragile X Syndrome may need extra support learning expectations and they typically will need to experience it rather than be told verbally. For this reason, I support role-playing with your child to learn new skills.
Cozy corners:
This concept was introduced to me by an occupational therapist, and I have found it valuable in the home setting. It may be appropriate and good for your kiddo to have a cozy corner in the home. In this space it is important to have items that support their sensory needs. This might include fidget toys, sensory books, crash pad, large pillow for relaxing, music, coloring, etc. In the cozy corner space, the child can go and regulate their mind and body. If this is a new concept, it may be necessary for you to seek guidance from a therapist regarding your specific situation.
Sibling Considerations
A Fragile X Syndrome diagnosis is going to affect the family as a whole. So, if there are siblings involved, it is important to take time to consider their needs and develop a general plan for moving forward to meet their needs. Rarely do I see parents intentionally creating division within the family system by focusing on the child with special needs, but division and challenges can arise between siblings. Therefore, I encourage you to take a minute to consider the other child(ren)'s personality. From there, identify potential issues within your family system as a result of the change and have a general plan for if these issues arise. In the past I have had families mention the book, The Five Love Languages for Children, was helpful in determining each of the children's love languages. From there, parents and/or caregivers can develop a plan for implementing care strategies for each child. As a mother, I personally found this valuable in caring for each of my children in the way that was most impactful to them. There are going to be times where each child needs more of our time and attention, however, by intentionally considering how to meet your needs of your children amid the ebb and flow of life is worth the time!
Conversations with Family, Friends, and Caregivers
Now, how do you converse with family, friends, and caregivers about your kiddo's diagnosis?
Create a pyramid of importance. If you spend much time with me in my therapeutic element, you will undoubtedly hear me use the pyramid to explain various concepts. This aids in developing an understanding of who is in your life and which category they fall under.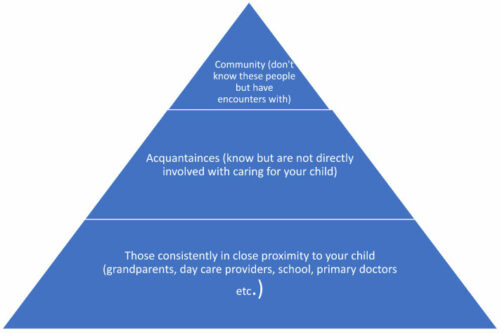 Foundational Relationships
Let's start with the most important group of people – the ones at the base or foundation of the pyramid…
These are the people, or groups of people, that are consistently involved in caring for or engaging with your child. It is important for these people to know and understand what is going on with your kiddo and how they can best support him. I realize that you are likely in the process of learning what that is, so these are the people to keep up to date on what is working and what is not working.
Consistency is key! So, the more consistency that you can provide your child by engaging all consistent people to work together, the more success you will for your child's growth, development, and wellbeing.
It is also important to recognize the role that each person plays. For instance, if you child spends most of their day with a caregiver or in school, it is important for you as the parent to be willing to learn from others what is working and what is not working.
Acquaintances
Next, we have the individuals that are known to your family but are not involved in the decision-making or caretaking of your child. For these people, it is important to communicate what is needed during these interactions. It is great to take them on the journey with you, but they do not need to necessarily be up to date with all that is going on with your child.
Community
Lastly, there is community interactions. These interactions are truly surface level in my opinion. Depending on the outward presentation of your child's diagnosis, you may be faced with community interactions, some being positive and some being negative. Remember that engaging in community interactions is not your primary job.
Start developing the habit of assessing these two aspects within a community-based experience:
First, ensure that your child is ok – do you need to leave the situation to protect your child from a negative experience? Do you need to stop and allow the interaction to happen because it is a safe engagement for your child to experience in the community?
Second, ensure you are ok – Did that make you want to cry? Is there a Bible verse or quote or person to call that can help re-establish your grounding? Or did that experience lift you up? Was the interaction a blessing? If so, pause and enjoy that blessing for a minute.
Supports for Caregiver
Regardless of where you are in the process, know that there are supports for you, too. Parent burnout is incredibly common within "normal" situations; then you add a Fragile X diagnosis into your family system and burnout increases. So, please find a way to take care of yourself. Also, considering that Fragile X is a genetic disorder, there may be some information you are learning for the first time and need time to process.
Below is a guide to possible therapy options for you, the parent/caregiver to this child with Fragile X Syndrome.
Therapy guide for the caregiver:
Neurofeedback
Music therapy – that's right music therapy is not just for the kiddos, it can be for you too! No music experience required. Music is powerful tool for addressing the stress, depression, loss, anxiety, and burnout that may find its way into your life.
Counseling
Family therapy
Couples counseling – making sure to be TOGETHER dealing with the diagnosis
Massage therapy
Caregiver supports (support group, babysitting, chore help, etc.)
If you want to learn more about if music therapy is right for you or your loved one, click below:
Is Music Therapy Right For You or Your Loved One?